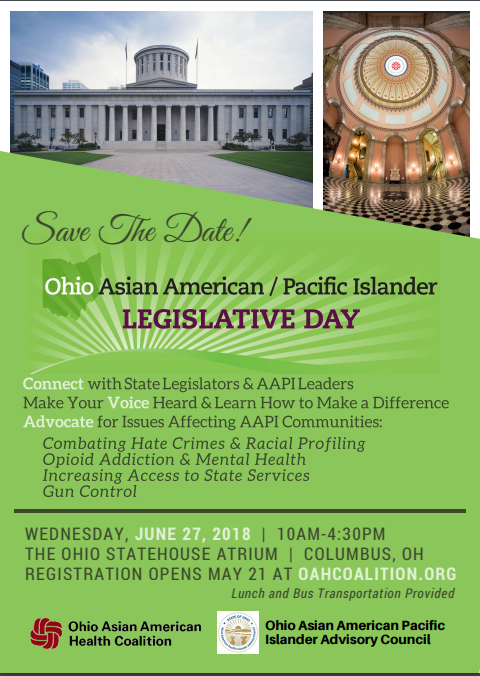 Event Date: Wednesday, June 27, 2018
Event Time: 10am-4:30pm (Check-in begins at 9am)
Location: The Ohio Statehouse Atrium, Columbus, OH
Cost: FREE but registration is required!
Online registration opens on May 21st. Individuals of all ages, ethnicities, and occupations are encouraged to attend, including students! Lunch and bus transportation will be provided. Click here to register!
Make your voice heard and learn how to make a difference!
The annual Ohio AAPI Legislative Day is an opportunity for Asian Americans & Pacific Islanders (AAPIs) from across the state of Ohio to convene and foster dialogue with state legislators on policy issues affecting our communities, including:
-Combating hate crimes and racial profiling
-Opioid addiction and mental health
-Increasing access to state services
-Gun control
AGENDA
7:30-8:30am Regional Bus/Van pick ups
9:00-10:00am Check-in, Coffee, & Networking
10:00-10:10am Welcome & Opening Remarks
10:15-11:15am Breakout Session 1 (Combating Hate Crimes & Racial Profiling OR Opioid Addiction & Mental Health)
11:20-11:50am Moderated Panel with AAPI Leaders: How to Make a Difference
11:50am-12:40pm Lunch & Networking with State Legislators/staffers
12:45-1:45pm Breakout Session 2 (Increasing Access to State Services OR Gun Control)
1:50-2:20pm Final Preparation for Legislative Visits
2:20-4:00pm Legislative Visits
4:00-4:30pm Debriefing, Closing Remarks & Networking
4:40pm Board buses/vans to leave Columbus
Sponsored by the Ohio Asian American Health Coalition and the Ohio Asian American Pacific Islander Advisory Council
We are hosting an online meeting for anyone interested in joining the planning team as a committee or sub-committee members on Thursday, May 17th from 7:00-7:45pm. Instructions for joining the online meeting will be shared via email.
Please RSVP for this meeting at https://goo.gl/forms/6L0urCPHet3JauW42 – even if you cannot attend! Details about the subcommittees are also included in the RSVP link.
This page will be updated as more information for the 2018 Legislative Day is released!
Below is all of the information from last year's legislative day, expect similar materials in weeks to come.
Click on the links below for additional details on the 2017 AAPI Legislative Day
AAPI Legislative Day Program 2017_FINAL
Breakout Session A: Health Inequities in the AAPI Community
Breakout Session B: Preserving the Rights of DACA Recipients and Other Immigrants
Breakout Session C: Safety Concerns in the Current Environment
Conducting a Legislative Visit
Agenda
11:00am –

12:00pm

Statehouse Atrium

 

Registration and Lunch
12:00 – 12:25pm

Statehouse Atrium

Opening Ceremony

National Anthem

Ø   Patch Wetzel, PatchWorks Ministries

Welcome & Orientation

Ø Dr. Cora Munoz, Chair, Ohio Asian American Health Coalition

Ø Michael Byun, Chair, Ohio AAPI Advisory Council

Ø Manju Sankarappa, Exec. Director, Ohio Asian American Health Coalition

Ø Kimlee Suremee, Chair, Ohio Asian American Legislative Day 2017

12:30 – 1:30 pm

Statehouse Atrium

Breakout Sessions (Select one, A – C)

A.        Health Inequities in the AAPI Community

This session will discuss the opioid crisis, Hep B prevention and control, and why Medicaid expansion and Medicaid funding is vital to the AAPI community.

 Facilitator: Dr. Cora Munoz, OAAHC, Ohio AAPI Advisory Council

Panelists:

Ø  Dr. Greg Lam, Cardiologist, OhioHealth

Ø  Dr. Mysheika Williams Roberts,Medical Director, Assistant Health Commissioner,  Columbus Public Health

Ø  Heather Skrabak, Associate Director, Assn. of Asian Pacific Community Health Organizations

George Washington

 

B.        Preserving Rights of DACA Recipients and Other Immigrants

This session will discuss challenges of all undocumented immigrants, particularly those with DACA status. Focus will be upon privacy rights, obtaining state IDs, and opportunities for work and higher education.

Facilitator: Kelly Hill, Ohio Progressive Asian Women's Leadership

Panelists:

Ø  Melissa Gawelek, Esq., Immigration Attorney

Ø  Dr. Emily Houh, University of Cincinnati College of Law

Ø  Inna Simanovsky, Esq.,  Immigration Attorney

Ø  Thalita Pontes, Legal Assistant for Immigration Law

Ø  Kimlee Suremee, Asian Services in Action, Inc.  

Stateroom
C.        Safety Concerns in the Current Environment

This session will discuss hate crimes and bias-related incidents within the AAPI community, the role of local law enforcement and Federal Agencies, how to advocate our concerns, and how state policies and statutes can address these growing concerns.                                  

Facilitator: Dr. Ron Katsuyama, OAAHC, Ohio AAPI Advisory Council

Panelists:

Ø  Romin Iqbal, CAIR-Columbus

Ø  Amar Pandey, Federation of Indian Associations-Ohio

Ø  Jaipal Singh, UNITED SIKHS

Ø  Peter Glenn-Appelgate, Assistant United States Attorney

1:30 – 3:45Breakout Rooms:

Statehouse Atrium

George Washington

Stateroom

Statehouse Atrium

 

Map Room

Advocacy in Action (Select one, A – B)

A.   Legislative Visits

Participants will prepare to advocate for the issue areas discussed by panelists during the breakout sessions, and visit the offices of state legislators in the breakout groups.

1:30 – 2:00       Preparation for Legislative Office Visits (In Breakout Rooms)

2:15 – 3:45       Legislative Visits on Key Issues

B.   Advocacy Basics

Participants will learn how to write letters, send emails, and make calls to your local state legislator regarding to health Inequities in the AAPI community, including Hepatitis B prevention and control, the opioid crisis, and Medicaid expansion.

C.   Statehouse Tours (Optional)

Guided tours are offered every hour on the hour with the first tour beginning at 10 a.m. and the last tour beginning at 3 p.m. Tours depart from the Map Room accessible from the Third Street entrance.

3:50 – 4:20

Statehouse Atrium

 

Debriefing
4:20 — 4:30

Statehouse Atrium

 

Closing Ceremony: Continuing the Momentum Beyond Legislative Day
Save
Save
Save
Save
Save
Save
Save
Save
Save
Save
Save
Save